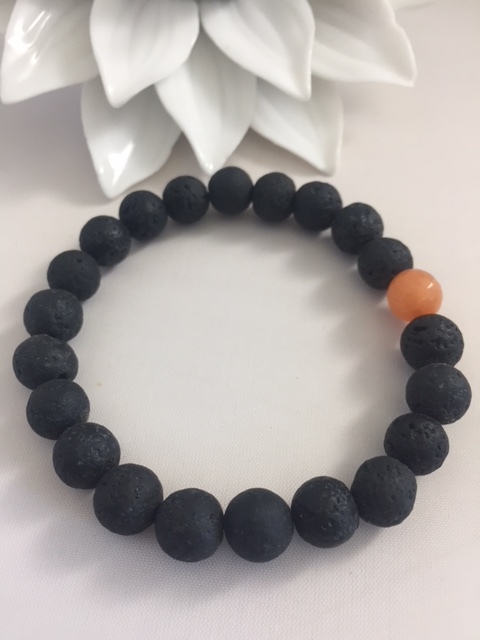 Mala Beads & Jewelry
Sacral Chakra Lava Diffuser Bracelet
Our Sacral Chakra bracelet is made of black lava beads. Lava is a beautiful, earthy stone. You can put drops of your favorite essential oils into the lava beads and they act as a sponge and the oils will be with you up to several days.
Made to fit up to a 7" wrist

Elastic, stretchy cord

Orange agate bead

Black lava beads

Made in our California workshop
The Sacral Chakra is your passion and pleasure centre and it is located in the pelvic area. While the Root Chakra is satisfied with survival, the 2nd chakra seeks pleasure and enjoyment.
The gift of this chakra is experiencing our lives through feelings and sensations.
The second chakra is the centre of feeling, emotion, pleasure, sensuality, intimacy, and connection.
The energy of this chakra allows you to let go, to move, and to feel change and transformation occurring within your body. It allows you to experience this moment as it is, in its own fullness.